welcome!
Remember we only have a small variety of games, for casino style games it's best to use websites like
Piramind.com
. They can provide you with reviews and information.
Should you fancy playing some games in your browser which you do not have to download then please visit
Goldenkudo.com
.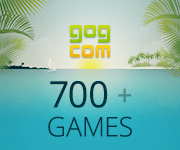 If you are looking for old games, this is the place to be. This site is dedicated to the DOS games from the past. On the left you can browse (or search) to the games you are interested in. The games should be downloaded before playing. If you find any issues on the site do not hesitate to contact me through the
contact
form.
Maintaining a site costs money, any
donation
is very welcome.

By the way, there is also a
YouTube channel
with over
900(!)
videos.
Find us on Google+
News
New games!

Hello everyone. I've just added Remote Control Racers Deluxe Traxxas Edition today, and yesterday I've added The Mummy.

Furthermore I would like to thank a whole bunch of donors from the last couple of weeks. I have updated them all in the list. Thank you soooo much.



Latis

·

29-09-2014 [22:15 CET]
Sorry

Sorry for those irritating popup ads. I have removed them.



Latis

·

16-09-2014 [21:44 CET]
Ballistics

I've added Ballistics a couple of days ago and forgot mention it over here.

And thanks to Chan and Danny for donating!
update
And Steve as well!



Latis

·

06-08-2014 [21:45 CET]
GOG
GOG.com
sells some of the best PC games of all time for just $5.99 or $9.99, 100% DRM-free and Windows XP and Vista, 7 & 8 compatible.
This is almost their complete list of titles: