welcome!
Remember we only have a small variety of games, for casino style games it's best to use websites like
Piramind.com
. They can provide you with reviews and information.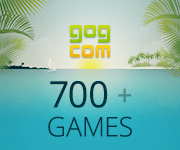 If you are looking for old games, this is the place to be. This site is dedicated to the DOS games from the past. On the left you can browse (or search) to the games you are interested in. The games should be downloaded before playing. If you find any issues on the site do not hesitate to contact me through the
contact
form.
Maintaining a site costs money, any
donation
is very welcome.

By the way, there is also a
YouTube channel
with over
900(!)
videos.
Find us on Google+
News
More thanks!

Thanks Kai and Jamie for donating today! It is much appreciated!
I will try to start adding some more games soon!
At the moment a bit busy at work, due to piled up stuff during my time off.



Latis

·

24-07-2014 [21:09 CET]
and back..

Hello everyone, I'm back from my holidays (part 1 )

I would like to thank all ppl who donated the last 14 days! Quite a lot to be honest. Thanks!

I've added a video for Airfix Dogfighter on YouTube. I forgot to upload that one before I left on holidays...

cheers.



Latis

·

23-07-2014 [22:03 CET]
dogfights in da house

Airfix: Dogfighter was added. Pretty fun game to play!



Latis

·

03-07-2014 [10:08 CET]
GOG
GOG.com
sells some of the best PC games of all time for just $5.99 or $9.99, 100% DRM-free and Windows XP and Vista, 7 & 8 compatible.
This is almost their complete list of titles: